UPCOMING EVENTS
A very special OUTDOOR SINGING CIRCLE featuring Shireen Amini. Music is medicine. Let's Sing, Feel and Heal together in community.
About this event Let's Sing! Singing is a unique and powerful tool for healing. For centuries, singing and song have been used to build community, to tell our stories, to honor transitions, to grieve our losses, and to transform despair into hope. Singing gets us out of our heads and into our bodies, so that we may be soothed, regulated, connected and uplifted. Healing happens in community, and song circles are an accessible and community-based approach to singing. We believe that singing is a birthright. So come join us and experience the innate power of song as medicine. **No matter your race, gender, sexual orientation, abilities, or housing status, you are not only welcome here, you belong here. We hope you will bring the wholeness of who you are to this embodied experience of singing with full permission to be in movement, grief, laughter and imperfection. Bring something to sit on and some cozy layers. Come connect with your voice and transform how you feel. DONATION - sliding scale $10-$40. Your donations will go towards supporting Shireen's mini-tour and continued artistic excellence! NO ONE turned away due to lack of funds.
ACCOUNTABILITY - 10% of proceeds will go to the Amah Mutsun Land Trust. Aptos Beloved Community will generously be matching our donation.
$10-40 sliding scale
HOUSE CONCERTS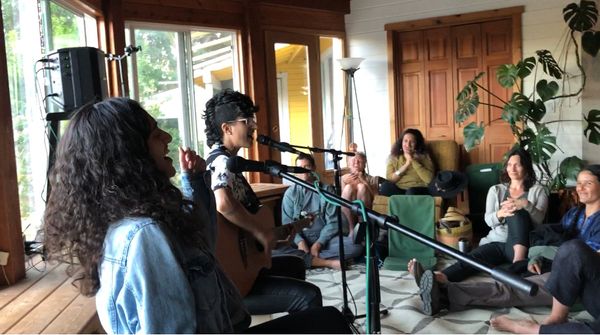 House concerts are one of the most magical settings to share music.
If you're interested in hosting, I'm here to help make it as easy, streamlined, and fun for you as possible! Below I answer some initial questions and have provided a clear, detailed guide covering all the rest. 
WHAT EXACTLY IS A HOUSE CONCERT? 
A house concert is a gathering of friends in your living room, on your deck, in your garden or backyard, with live music, often food, drinks, and conversation. You don't need a large living room or backyard, just a welcoming space where people can come together. The average house concert has 20-40 people and is purposefully more intimate. The focus is on listening and connecting more deeply with the music and the people sharing the experience of it.
HOW DO I SET UP A HOUSE CONCERT?
I'm glad you asked! Your first step will be to get in touch with me and we'll establish a date and event logistics. I'll then provide you with ticketing links and / or promo. At that point, it's time to invite, invite, invite! The day of the event I'll arrive early to set up, relax, and maybe share a meal with you. Just like that, we'll have a beautiful evening of music in your home! 
WHAT IS THE LIVE PERFORMANCE LIKE?
I will perform solo, possibly with a guest or two, or possibly with a small acoustic band. I have a unique approach to performing in that I like to invite a lot of audience participation in the form of singing, rhythm-making, and movement. I'll tell stories and perform with a few different instruments to keep the night interesting, but the overall feel will be intimate and heartfelt. It is possible that by the end of the night, people will be ready to get up and dance. That is totally awesome and welcome! 
IS THERE ANYTHING ELSE YOU CAN OFFER BESIDES PERFORMANCE?
Why yes, in fact! If it interests you and your community, we can set up a workshop in conjunction with the house concert! In addition to being a performing singer-songwriter, I'm also a teaching artist and music facilitator. I primarily teach hand drumming, but can also lead song circles. This can happen earlier in the day before the performance or the next day. If you'd like to set up a workshop or song circle, just let me know! We'll make a plan together and tie it in with house concert promotion. 
Check out this helpful guide that lays out all the details clearly and offers options to customize your house concert event to your liking! 
Contact me expressing interest in hosting a house concert and include potential dates!